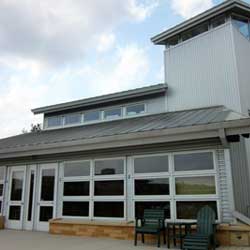 The first step towards towards incorporating solar into long-term energy planning is to conduct a preliminary feasibility analysis of all potential buildings and sites that could be candidates for solar. Buildings that meet a minimum set of criteria should be further considered for solar technologies in the future.
PV Systems
Roof space/building footprint: A rule of thumb for solar pv systems is that 1kW requires about 85 sq. ft. of roof space. In the Eagan Solar Feasibility Report, buildings with a foot print under 1000 sq. ft. were immediately eliminated.
A year-round load: The energy produced by a PV system has the most value used on site. Any net excess energy produced throughout the year can be sold back to the grid, but at a discounted rate.
Roof shading and obstructions: Significant shading by nearby tress or buildings during the peak sun hours of the day hurts the value of a solar. Roofs with obstructions such as mechanical equipment, skylights, or anything else that limits the space available to a solar system or causes shading are also not ideal candidates. Arial photography can help to quickly determine if a building has sufficient roof space to accommodate a solar PV system.
Upcoming construction projects: Solar can be most economically installed when bundled with other projects such as a roof replacement or other capital improvements. Any construction project on an existing facility is also a prime opportunity to made a building solar ready at little or no extra cost.
Energy goals: Facilities with aggressive energy reduction goals that are supported by will and a budget are of course prime candidates for solar.
Rate schedule: The rate schedule a building is on can effect the economics of solar. Schedules 41 and 46 were identified as the most advantageous rate schedules for solar in the Eagan Feasibility study.
New Construction
Solar ready design and facility planning is important if solar technologies are to be installed on a building at any time during the building's lifespan or incorporated into operations now or in the future. The economics for installing solar on a new building may not be compelling enough in Minnesota at the moment, but, in the future, that picture could change with rising electricity or heating fuel prices and/or falling solar technology costs. Building a facility that is not solar ready exposes the managing public entity to the risk of not being able to take full advantage of future economic scenarios for solar electricity and hot water.
For example, a building designed without solar readiness in mind may have structural or solar access barriers that prevent installing solar due to insurmountable costs in a worst case scenario. In some cases, solar may present a less attractive financial picture due to reduced solar production or an increase in cost to make the building compatible with solar.
For roof mounted solar systems, the three basic components of a solar ready building generally include:
1) A place on the roof of the building that has unrestricted solar access, is free of obstructions such as rooftop equipment or plumbing vents, and is structurally designed to accommodate the weight, wind, and drift loads that the system might impose;
2) A internal chase or other means for connecting the solar system to the building's mechanical or electrical system;
3) Space within the building that is readily available for the installation of controls and components, such as electric invertors and hot water storage tanks.
Other technologies and applications may require varying design and operations considerations. A full analysis of potential renewable applications should be done before finalizing the designs of a new building to prepare for targeted technologies of the future.
Existing Facilities and Brownfields
During the life of an existing building, there are often special opportunities to install solar applications that arise due to planned renovations. Existing buildings should be considered for renewable energy measures during key times in a building's life. These times include:
Roof replacement
Boiler replacement
Facade replacement
Window replacement
Building additions
New parking lots/facilities
Other capital projects
Solar is also being incorporated into brown sites and other innovative reuse strategies for publically owned lands. For example, solar projects have been developed on landfills, old runways, and contaminated industrial Superfund sites.
---
Resources
Solar Ready: An Overview of Implementation Practices | NREL <pdf>
This report explores three mechanisms for encouraging solar ready building design and construction: solar ready legislation, certification programs for solar ready design and construction, and stakeholder education. These methods are not mutually exclusive, and all, if implemented well, could contribute to more solar ready construction.
Solar Ready Building Design Guidelines for the Twin Cities <pdf>
Thus, the guidelines are intended as a checklist of the "solar ready" decision-making process from site selection to the beginning of construction. Building owners, developers, and builders review a clear process outlining decision-making, timing of decisions, and responsibilities for each issue."
Companion Solar Ready Construction Specification <pdf>

This document is a specification that explains how to prepare a building for the future installation of a solar system.
Brightfields Program Overview | Brownfields and Land Revitalization | US EPA
The Brightfields approach offers a range of opportunities to link solar energy to brownfields redevelopment and thereby transform community hazards and eyesores into productive, green ventures. This unprecedented campaign will help our nation put its hundreds of thousands of brownfields back into productive use and at the same time create high-tech jobs in blighted urban neighborhoods, improve air quality, and reduce greenhouse gas emissions. More resources can be found on the EPA website.
Redevelopment of the Aerojet General Corporation Site <pdf>
A public-private partnership between Aerojet, Solar Power, Inc. and the Sacramento Municipal Utility District has led to the development of a remarkable 40-acre solar farm on the Aerojet General Corporation Superfund site near Sacramento, California. The electricity produced provides more than 20 percent of the energy needed to power the site's ground water remediation program. More information about this project and other related initiatives can be found on the EPA's Superfund Redevelopment in Region 9 site.
Technical Guidance for Evaluating Selected Solar Technologies on Airports <pdf>
The Federal Aviation Administration (FAA) prepared this report to meet the regulatory and information needs of FAA personnel and airport sponsors in evaluating airport solar projects.
Feasibility Study of Economics and Performance of Solar Photovoltaics at the Refuse Hideaway Landfill in Middleton, Wisconsin <pdf>
This report assesses the Refuse Hideaway Landfill for a possible PV installation and estimates the cost, performance, and site impacts of three different PV options: crystalline silicon (fixed tilt), crystalline silicon (single-axis tracking), and thin film (fixed tilt).