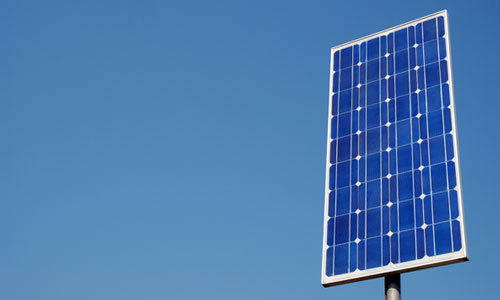 Solar technologies use the sun's energy to provide electricity, heat, light, hot water, and even cooling for homes, businesses, and industry. More energy from the sun falls on the earth in one hour than is used by everyone in the world in one year. A variety of technologies convert sunlight to usable energy for buildings and other applications that require electricity or heat.
[toggles class="solarbasics"]
[toggle title="Solar Energy Benefits"]Solar energy could provides many benefits to local governments including:
Financial: Solar PV and other solar technologies can provide an attractive financial return on investment while also insulating the system host from future increases in the cost of electricity or non-renewable fossil fuels.
Environmental: The majority of electricity we use in Minnesota today is generated from burning coal or other fossil fuels. Solar systems produce electricity and heat energy without emissions of any kind and help to combat greenhouse gas emissions and global warming.
Self-reliance and local economic development: Solar systems can also contribute to grid reliability and energy price stabilization. Distributed generation supports strong local economies and helps to create local jobs.
Education/role model: On public buildings, a solar installation can also act as educational tool for the general public that catalyzes additional solar development throughout the community.
Resources:
Solar FAQs | MN Department of Commerce <PDF>
Contains basic information about solar power and is a good place to begin the process of learning about solar energy.
The Impact of Different Economic Performance Metrics on the Perceived Value of Solar Photovoltaics | NREL
This report compares PV economic returns for different PV customers using economic performance metrics including net present value (NPV), profitability index (PI), benefit-to-cost (B/C) ratio, internal rate of return (IRR), modified internal rate of return (MIRR), simple payback and time-to-net-positive-cash-flow (TNP) payback, annualized monthly bill savings (MBS), and levelized cost of energy (LCOE). They characterize relative PV economics for each metric over a range of system characteristics,
including PV system price and several non-price parameters including financing terms, tax rates, electricity rates and assumed rate escalations, and PV system performance.
Democratizing the Electricity System – A Vision for the 21st Century Grid | Institute for Local Self-Reliance
Wind and sun are available everywhere, so renewable energy can be economically harnessed at small scales across the country, state and community. This nature of renewable energy, coupled with an exponential increase of renewable energy generation here and abroad promises to transform the structure and scale of the nation's grid system. But the greater transformation is the democratization of the electric grid, abandoning a 20th century grid dominated by large, centralized utilities for a 21st century grid, a democratized network of independently-owned and widely dispersed renewable energy generators, with the economic benefits of electricity generation as widely dispersed as the ownership.
Jobs and Economic Development Impact (JEDI) Models | NREL
The Jobs and Economic Development Impact (JEDI) models are user-friendly tools that estimate the economic impacts of constructing and operating power generation and biofuel plants at the local and state levels. First developed by NREL's Wind Powering America program to model wind energy impacts, JEDI has been expanded to analyze concentrating solar power, photovoltaics, marine and hydrokinetic power, biofuels, coal and natural gas power plants.
On this site, you can download the models for free, learn more about how JEDI works, understand the output, and get answers to questions about using the model.
[/toggle]
[toggle title="Solar PV"]There are a variety of solar technologies the public sector should consider when evaluating options for new and existing facilities and operations. Solar PV technologies produce electricity that is either fed into the grid or stored on-site. The most commonly used PV technologies in today's market are polycrystalline and thin film panels.
Solar PV Resources
The National Renewable Energy Lab and the U.S. Department of Energy are the most comprehensive government resources on solar energy and other renewables and efficiency measures.
Solar Research Home Page | NREL
NREL develops renewable energy and energy efficiency technologies and practices, advances related science and engineering, and transfers knowledge and innovations to address the nation's energy and environmental goals. The National Renewable Energy Laboratory (NREL) is the only national laboratory solely dedicated to advancing renewable energy and energy efficiency technologies from concept to commercial application. For 35 years, NREL innovations, analysis, and expertise have enabled the emergence of a U.S. clean energy industry and led to numerous success stories from across the laboratory. NREL's 327-acre main campus in Golden, Colorado, is a living model of sustainable energy. The laboratory also operates the National Wind Technology Center on 305 acres located 13 miles north of its main campus.
SunShot Initiative: Solar Resource Center | U.S. Department of Energy
SunShot, through the Solar Energy Resource Center, maintains a collection of resources on solar technologies and best practices to implement solar, both at the local level and with large-scale deployment. Resources include articles, case studies, fact sheets, how-to guides, model rules and ordinances, presentations, sample government documents, technical reports, tools, and webinars. These resources were developed by industry, local government, university, and national laboratory partners through the support of the DOE Solar Energy Technologies Program.
Solar Photovoltaic Technology Basics | National Renewable Energy Lab
NREL offers a basic overview of solar technologies with links to specific information for market segments and also information about research and testing activities at the lab.
Solar 101 | States Advancing Solar
States Advancing Solar is an initiative by the Clean Energy Group with funding support from the Department of Energy's Solar Energy Technologies Program and the Clean Energy States Alliance. This page contains general resources about solar technologies including benefits of solar, history of the technologies, economics of solar, and a solar resources map.
List of Eligible SB1 Guidelines Compliant Photovoltaic Modules | Go Solar California
This list, created by the California State Energy Commission, is one of the most comprehensive, vetted lists of PV equipment. Only modules which are on the SB1 Guidelines compliant module list will be eligible for incentives in California and many other states across the country.
Understanding Solar Technologies | Solarbuzz
This page, produced by a Solar Market and Research and Analysis company, general resources about solar technologies including benefits of solar, history of the technologies, economics of solar, and a solar resources map. It also describes the materials used, technical specs, and current market share for the dominant solar technologies: crystalline silicon and thin films.
[/toggle]
[toggle title="Solar Thermal"]Solar thermal technologies produce heat. This can include solar hot water and also solar hot air. Solar hot water technologies include active systems that utilize collectors such as flat plate collectors, evacuated tube collectors, high-temp parabolic troughs, and other hybrid technologies. Solar hot air technologies can be both active and passive and include a wide array of system types from layered corrugated metal systems integrated into the building to active collectors installed to the exterior of a building.
Solar Thermal Resources
Solar Water Heating | Whole Building Design Guide
This section of the WBDG provides an overview of solar thermal technologies including technologies, costs, resource assessments, design considerations, and operations and maintenance.
Solar Heating and Cooling | SEIA – Solar Energy Industries Association
This page from the nation's largest solar industry organization describes how solar heating and cooling technologies collect the thermal energy from the sun and use this heat to provide hot water, space heating, cooling, and pool heating for residential, commercial, and industrial applications.
Solar Thermal Company Search | Solar Rating & Certification Corporation
The SRCC™ is a non-profit organization whose primary purpose is to provide authoritative performance ratings, certifications and standards for solar thermal products, with the intention of protecting and providing guidance to consumers, incentive providers, government, and the industry. The link above is for the search page for companies that are currently participating in the SRCC certification program.
SOLARGE is a European co-operation project to open up markets for large collective solar thermal systems for multi-family buildings, hotels, public and social buildings. This initiative lasted three years and completed in 2007. The website includes case studies on commercial scale installations, best practices, and project implementation tools (currently inactive).
Unglazed Transpired Solar Collector Technology Overview | Resources available at the Minnesota Department of Commerce <pdf>
The Unglazed Transpired Solar Collector Technology Overview describes a solar collector that can be used to preheat ventilation air using incident solar energy. The Solar Wall Report is performance analysis done by Minnesota State University, Mankato on solar walls in Minnesota.
Solar Ventilation Air Preheating | Whole Building Design Guide
Solar ventilation air preheating, or solar ventilation preheat, technology uses the energy of solar radiation to preheat ventilation air. Site includes a description of the technology, applications, operations and maintenance, codes and standards, and special considerations relevant to the technology.
[/toggle]
[toggle title="Passive Solar"]Passive solar strategies include solar design (i.e., Passive Haus) and solar day lighting (i.e., solar tubes).
Passive Solar Resources
Passive Solar Home Design | U.S. Department of Energy: Energy Savers
Comprehensive resources on passive solar home design including how it works, the five elements of passive solar design, and other climate considerations.
Re-Arch: The Initiative for Renewable Energy in Architecture | University of Minnesota
The Initiative for Renewable Energy in Architecture (reARCH) is a collaboration which brought together the educational and technological expertise of the School of Architecture at the College of Design and the Center for Sustainable Building Research at the University of Minnesota, the American Institute of Architects Minnesota in cooperation with the Committee on the Environment, the Green Institute, the Minnesota Renewable Energy Society, and the Midwest Renewable Energy Association. re-ARCH's website provides hands-on knowledge, resources, and tools that design professionals need to integrate renewable energy, assess its economic costs, and determine its environmental benefits. re-ARCH was supported by a grant from the Minnesota Pollution Control Agency (MPCA).
Renewable Energy in Architecture, Passive Solar Fact Sheet
Best Practices in Day Lighting & Passive Systems for Smaller Commercial Buildings
Full List of fact sheets and presentations
[/toggle]
[/toggles]