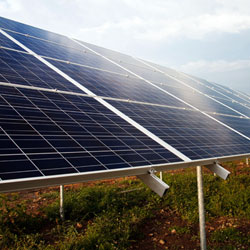 Official standards that apply to solar equipment, system design, and training have been rapidly developing over the past years. More mature applications, such as grid-connected PV, have a full set of standards that govern almost every step of the process. Less mature technologies and applications may not be governed by a consistent set of standards.  This is an important consideration when choosing a solar technology, application, and contractor.
Resources
The Solar America Board for Codes and Standards (Solar ABCs) is a collaborative effort among experts to formally gather and prioritize input from the broad spectrum of solar photovoltaic stakeholders including policy makers, manufacturers, installers, and consumers resulting in coordinated recommendations to codes and standards making bodies for existing and new solar technologies. The U.S. Department of Energy funds Solar ABCs as part of its commitment to facilitate widespread adoption of safe, reliable, and cost-effective solar technologies.
American Society of Heating, Refrigerating and Air-Conditioning Engineers
The Society and its members focus on building systems, energy efficiency, indoor air quality and sustainability within the industry. Through research, standards writing, publishing and continuing education, ASHRAE shapes tomorrow's built environment today.
The following ASHRAE standards apply to solar energy:
ASHRAE 90003 Active Solar Heating Design Manual
ASHRAE 90336 Guidance for Preparing Active Solar Heating Systems Operation and Maintenance Manuals
ASHRAE 90342 Active Solar Heating Systems Installation Manual
ASHRAE 93 Methods of Testing to Determine the Thermal Performance of Solar Collectors
Solar (PV) Panel Ratings Breakdown | CalFinder
There are several ratings that should be specified for every PV solar panel including minimum warranted power, STC/PTC ratings, efficiency ratings, and UL listings. Understanding and inquiring about solar panel ratings is of the utmost importance and will ensure the best performance and value from a solar system. This page briefly outlines what the major ratings mean.
Solar Rating & Certification Corporation
The SRCC is a non-profit organization whose primary purpose is to provide authoritative performance ratings, certifications and standards for solar thermal products, with the intention of protecting and providing guidance to consumers, incentive providers, government, and the industry. SRCC programs provide standardized comparisons of solar thermal products, one-time certification, national recognition, and product credibility. They serve three groups: solar consumers, the solar thermal industry, and local, state and federal regulatory bodies.
North American Board of Certified Energy Practitioners (NABCEP)
The North American Board of Certified Energy Practitioners (NABCEP) is the "gold standard" for PV and solar heating installation certification. Designed to raise industry standards and promote consumer confidence, NABCEP offers certification and certificate programs to renewable energy professionals throughout North America.